by Three Hands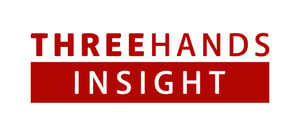 Lowell have produced this blog in conjunction with Three Hands, an organisation that help businesses develop their people, partnerships and products in ways that benefit society through real life projects with charity partners.
In 2019 – before we were hit by the coronavirus pandemic – the FCA stated that 50% of adults displayed at least one characteristic of financial vulnerability. Since then, things have only become worse; levels of vulnerability have risen and, according to Citizens Advice, one in nine people nationwide, (that's 6 million in total), has fallen behind on a household bill because of the pandemic.
Financial vulnerability does not happen in isolation, it is complex and each person facing it has a unique story. So what can lead to financial difficulty? What makes it worse? And what can businesses do? Lowell and Three Hands Insight have teamed up to bring you five things you need to know.
1. Life shocks play a large role in financial vulnerability
For many people financial problems arise because of a life event which causes a shock to their household finances. According to research by debt charity StepChange, around 23 million people experienced a life shock in their household in the past two years, and these people were three times as likely to be in problem debt as those who had not. These events can be anything from job loss, to illness, accident or a sudden change to household make up. For example, of people who experienced divorce over the last two years, 50% are financially worse off and of people who were unwell with a chronic condition over the same time period 59% were worse off. We can also see the financial impact of these events when we look at current pandemic, with an additional 1m people falling into arrears since May.
"My struggles really began when my husband went into hospital. He was really ill and wasn't in long before he sadly passed away. I thought my husband had put something to the side in case something happened to him – I wasn't expecting to be in debt. I was left with everything to pay. I couldn't keep up with the bills" – Francella, Christian's Against Poverty research participant.


2. A lack of savings and low income can make the effects of these shocks much worse
When these shocks happen some people can manage as they have a safety net in the form of savings However, in the UK around 12.8m households have less than £1,500 in savings, or none at all. This means that when a sudden change to income or outgoings happens, people are left without adequate back up to support themselves. This is particularly prevalent for younger demographics with about 40% of people between the ages of 22 and 29 having no savings at all, and only around 25% having significant savings of over £6,000. For this group the picture looks like it is getting worse, with young people being most highly impacted by pandemic-related unemployment. Those on low incomes (22% of UK adults) also often lack a safety net as they cannot afford to both get by and put money aside each month.
3. Capability to engage with finances also matters
In the UK 17% of adults have low financial capability. This can be due to a number of factors including low literacy or English language skills, a lack of knowledge about financial products, cognitive impairments or a lack of digital skills. Accounting for these differences in ability is key to making sure that some customers are not pushed into financial difficulty because they cannot interact with systems and products. This doesn't just apply to those without the necessary skills but also to those who might lack motivation or confidence; 39% of adults (around 20 million) don't feel confident managing their money and this in itself can make people vulnerable to financial harm. Having different ways for customers to engage with you, such as online chat, which accommodate on their abilities and confidence levels is important.
"Everyone withdrawing their pension for the first time should be treated as vulnerable - a lack of education creates vulnerability" Insight from Three Hands project with major pensions company
4. The relationship between mental health and money problems
Mental health difficulties are also a factor in financial vulnerability, both as a cause and an effect. According to the Money and Mental Health Institute, people with mental health problems (25% of the population each year) are three and a half times more likely to be in problem debt than those without mental health problems. Debt and financial problems also contribute to mental health problems, with high levels of stress associated with managing finances. This can create a cyclical relationship where money problems impact mental health and this in turn means money problems become worse. Again this is an issue which will likely be made worse by the current pandemic, with the Institute for Fiscal Studies finding that, taking account of pre-pandemic trajectories, mental health has worsened substantially (by 8.1% on average) as a result of the pandemic, pushing more people into financial difficulty.
"Getting into debt is easy and then very worrying and stressful; sleepless nights, churning stomach etc. At first I hid from the calls from Lowell then finally I spoke to them. Their approach surprised me, they were completely non-judgmental and kind" – Lowell customer
5. Financial vulnerability is not a permanent state but barriers to working make it more difficult for some groups of people to become financially resilient
Anyone can become financially vulnerable at times, just as lots of people can improve their financial situation and leave this category. However, for some groups who face barriers to improved income it can be more difficult. For example, half of working-age carers, who also face elevated living costs, live in a household where no-one is in paid work, often because caring means they do not have additional time for this. Similarly people with disabilities face higher expenditure, and are over a third less likely to be employed than non-disabled people. For these groups, the barriers which impact work exacerbate financial vulnerability. Additionally, although younger people face the biggest challenges around savings, older people who are in poverty also find it particularly challenging to change their situation as retirement does not present opportunities for work.
"I have had to use my pension pot to be able to afford to live so I could give up work to care for Mum. I will shortly have to sell my house to continue to be able to afford everything." Research participant, Carers UK, State of Caring 2019
Recommendations
Understanding the issues:
Know your customer and keep challenging established assumptions of customer segments as situations change. For example, understand how the current pandemic and its economic effects have caused graduates, who may be assumed in normal circumstances to be resilient, to become more financially vulnerable.

Collect in depth customer feedback. Where you can, reach out and actually speak to your customers first hand. Desk based surveys are great and suit a need, but having a real conversation with real customers can help provide a much deeper understanding.
Look beyond your own organisation. Work with expert charities to gather insight into the issues that customers face. Some charities may be prepared to share this directly, others may be supported to do so by insight and innovation projects.

Bring together a collective group of decision makers in the business to meet regularly and learn from the outside world about the issues facing vulnerable customers. Doing so can situate vulnerable customers at the heart of business decisions, rather than on the side lines.

Raise awareness about financial vulnerability amongst teams in related areas of the business – such as customer insight, customer experience and innovation – to build an understanding into your business culture and with this the products and services you sell.
Identifying those at risk:
Open up a conversation with customers by taking the time to ask careful questions about their circumstances; don't wait for them to lead this. It can change the shape of the discussion and make the customer feel better supported and reassured.

Look at how you can build identifying indicators of vulnerability into your digital journeys, such as flagging key words in online chat functions, and use the data you have through these journeys to better assess a customer's needs.

Collaborate with other creditors when possible. At Lowell, people who come to us as a new account often already have other accounts with us. We can use information we have to provide support directly aligned to their needs. Collaborating with creditors means customers could get better, more bespoke support earlier in their conversation with us.

Don't forget about your employees, some of whom will also be financially vulnerable. Work to assess who in the business may need additional support and build an internal culture of addressing financial vulnerability, alongside your external approach.
Providing solutions:
Deliver high quality training to support staff. Include practical learning experiences that involve engaging with customers who have been through the process and use customer feedback in coaching sessions.

Offer tailored and flexible solutions to customers. As every vulnerable customer often has a complex story, empower employees to be able to offer a variety of solutions which can take into account personal circumstances. As a customer's journey, and potentially their financial vulnerabilities, changes regularly these solutions also need to be adaptable.

When it comes to creating solutions for vulnerable customers, adopt an innovation mind-set that takes you beyond compliance and discrete problem solving. In fact, at Three Hands Insight we find that innovations for people facing financial vulnerability will usually benefit all customers and create better solutions for everyone.

Develop long-term approaches to supporting those who are financially vulnerable, as there is rarely a quick fix.

A typical journey from responding to a life shock, starting to
feeling confident with finances and ultimately moving out of debt can take up to two years. Working with a customer consistently throughout this period is vital to helping them access genuine financial resilience.